I attended a beautiful wedding a few weeks back. Imagine the scene: A wedding with a spectacular backdrop of natural beauty by the lake. As the gorgeous bride and handsome groom exchanged their vows, the atmosphere was ruined by aloud scream "I need the toilet!" cried a little boy behind us. "I am hungry! Yelled a little girl seated in front of us, who then started running around the altar.
Surprisingly, their parents did nothing to stop their child leaving the bride's mother glaring at them fiercely. I love children and they can be A LOT of fun at weddings especially when they start with their cute moves at the dance floor.Weddings would never be the same without children; they have a way of spicing up the wedding atmosphere with their cuteness.
The following is a 4-step guide to invite children to a wedding: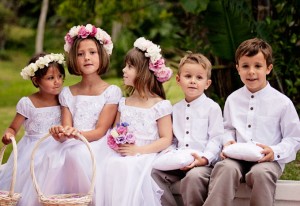 1. Sit parents and children together
If possible place parents and children at the same table or close to  one another. While it might look like a good idea to put all children  in one table, an unsupervised group of children can call for trouble.
2. Keep them entertained.
Children tend to get bored during the ceremony and speeches. It  is important to keep children entertained to prevent boredom and restlessness. A few board games set up in a separate room could do the trick. Hiring a professional to keep them entertained could be a good idea.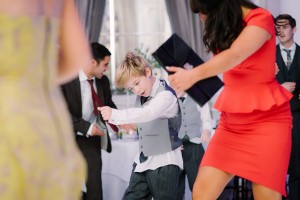 3. Enjoy the moment
People tend to discourage you from inviting children to weddings with some horrific stories. Do keep in mind children do bring a lot of element of surprise, cuteness and memories to a wedding. Not to forget laughs too.Have a good sense of humour in having the little kids at your wedding. Get your photographer to catch all of their cute moments.
 4. And if all that fails then…Hire a crèche facility
If you are having a number of children at a wedding, you should consider hiring a crèche facility run by qualified and experienced professionals. They can manage and supervise children throughout the day or for specific hours. Activity centres, playmats and toys are usually arranged by them to keep children busy and entertained. Rise and Shine is one of the most recommended professional mobile crèche provider in Dundee.